For most of us, setting the clock forward in the spring is a sad occasion, a sign that we're losing an hour of sleep.
Daylight saving time begins Sunday at 2 a.m. in most of the U.S. — except for Hawaii and Arizona.
But for some genetically blessed people, a loss of one hour of sleep is not a problem. In fact, sleeping fewer than the recommended seven or eight hours is the norm. They naturally feel refreshed and ready to go — at 4 a.m.
These "short sleepers" have a mutation on a gene known as hDEC2, that regulates their sleep-wake cycle. This mutation allows them to function on less sleep, researchers say.
There have been purported short sleepers such as former British Prime Minister Margaret Thatcher, actor James Franco and domestic personality Martha Stewart. Whether they've been able to stave off sleep through genetics or willpower is unknown.
Amy Avery has neither heard of this short sleep gene nor been tested. While it's unclear whether she has the genetic mutation, Avery thrives on only four to five hours of sleep.
As an adult, she has always fallen asleep around 1:30 or 2 a.m. Avery kicks off her day at 6 a.m., or an hour earlier when she has a workout. She doesn't refuel with coffee or other caffeinated drinks.
"I've done it so long," she said. "I function fully. I don't yawn during the day. I'm not tired."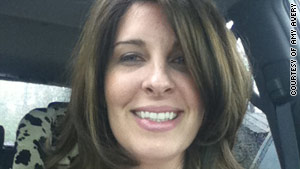 Amy Avery stays awake late into night even when she doesn't have work to do.
Avery juggles a family and a full-time job as a digital director in advertising. Her two kids, ages 2 and 5, fall asleep around 9 p.m. and her husband dozes off at 10 p.m. Afterwards, Avery cleans, watches TV, reads a book or finishes work in her quiet home near Atlanta, Georgia.
"It's just something that naturally kicked in," Avery said about her sleep pattern. Even on days when there isn't work left to do at night, "I'll still be wide awake," she said.
Avery recalled that her father always went to sleep late and woke up early too.
Certainly, a natural short sleeper has competitive advantages, but most people probably don't have the genetic mutation, said Ying-Hui Fu, professor of neurology at University of California San Francisco.
"It's hard to tell how frequent this mutation is," she said. Her lab has only found 20-30 people with the genetic mutation that researchers believe contribute to the ability to sleep less.
Many with this mutation hold down two jobs, have successful careers and enjoy diverse interests.
"Everyday, they have two to three more hours to do things," Fu said. "They're very active."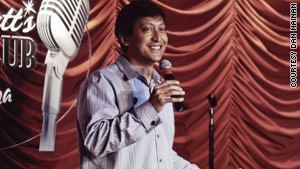 Dan Nainan says his sleep schedule changed after becoming a comedian.
Dan Nainan, a 29 year old New York comedian, sleeps about four hours every night. He avoids prescription drugs, alcohol and caffeine, and says he jumps out of bed at 4 a.m. feeling perfectly rested.
"It gives me advantages," he said. "I have 20% more time than your typical person."
Nainan does not know if his genes or job dictates his sleep schedule though. In bed by midnight, he wakes up four hours later. With the extra time, he works on his comedy material and marketing.
"A lot of comedians sleep till 5 in the evening," he said. "They don't realize how much of business is going on with phone calls and auditions and movie roles."
But problems arise when your body needs seven or eight hours, but you force yourself to function on less, sleep experts said.
Many people boast about their lack of sleep, like a badge of honor of being superhuman. But most likely, that sleep deprivation can make you less than super.
"You're tired, walking around tired," said Dr. David Volpi, a founding doctor of Manhattan Snoring and Sleep Center. "Your performance is poor, cognition is decreased and attention is decreased."
Sleep deprivation can cause increased driver's fatigue, drowsiness and poor hand-eye coordination. In the long run, people who sleep less than six hours have been found to have greater risks of mortality, obesity, heart attacks and stroke.
Most of us need about seven to eight hours of sleep, and some people need as much as 10.
Fu thinks people who aren't natural short sleepers "use artificial things to sleep less."
"Long term, it's more likely to cause health problems such as cardiovascular risks and cancer," she said.
It's unclear whether natural short sleepers risk health problems associated with sleep deprivation.
In a 2009 study published in Science, Fu and her colleagues from University of California San Francisco identified a mother and her adult daughter who regularly slept an average of 6.25 hours. Their blood tests showed that they had a particular mutation that affects their 24-hour cycle. There are probably more undiscovered genetic mutations that facilitate sleep patterns, Fu said.
"They wake up energetic," she said about the people with such genetic mutations. "Four to six hours — that's their optimum sleep."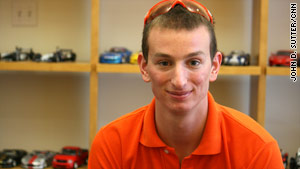 Seth Priebatsch is a 22-year-old tech entrepreneur who does not keep normal sleeping hours.
Seth Priebatsch, a 22-year-old tech entrepreneur and self-described Chief Ninja of SCVNGR, began his unorthodox sleeping habits when he was 12. He would rise early so he could work with a team based in India, getting only four to five hours a night. He's a short sleeper by choice, but he's been doing it for so long, it feels natural, to a point.
From time to time, he crashes in a conference room with a hoodie draped over his head catching a quick nap. Even though he may not need many hours, he appreciates his rest.
"When I get a good night's sleep, there's nothing like it," Priebatsch said. "It's a luxury I get once in a while."