Indonesia once hailed itself as a moderate, diverse nation that protects freedom of religion for all its citizens, with a national motto "Bhinneka Tunggal Ika," meaning unity in diversity. Three months ago, President Obama praised Indonesia as a model of religious tolerance when he said that Indonesia and the United States share principles of unity and tolerance.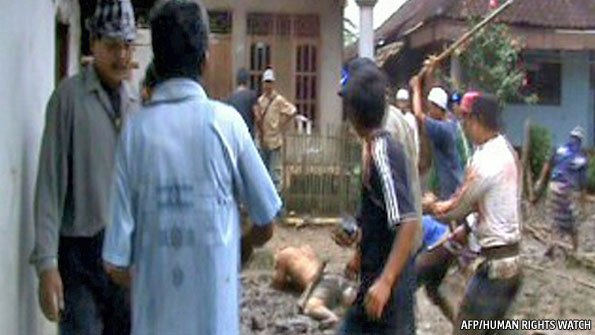 The grim reality, however, is that Indonesia is losing the right to call itself a tolerant nation that promotes or protects diversity. Instead, due to failed policies, its government has allowed a real militant threat to grow within its borders.
Just last week, in a span of three days, mobs in Indonesia attacked two different religious groups, with the police unable to stop them. On February 8th, a mob of 1,000 militants attacked the police and burned two churches to protest what they considered a far too-lenient sentence given to a Christian for allegedly blaspheming Islam. The mob is calling for his death.
Two days earlier, on Sunday, a mob of more than 1,000 extremists wielded machetes and attacked 18 peaceful members of the Ahmadiyya Muslim Community staying in a house. Three have been confirmed dead and five critically injured. A gruesome video of the attack has surfaced, showing two bloodied young men of this community being hacked to death as the crowd cheers and pelts the lifeless bodies with stones. Meanwhile, the police idly stand by. This footage can be found online, if you have the stomach to watch the brutality.
Hard-line extremists are literally getting away with murder, as their vile attacks result in no punishment. At the root of the problem is Indonesia 's misused 1965 Blasphemy Law, which makes it unlawful, "to, intentionally, in public, communicate, counsel, or solicit public support for an interpretation of a religion or a form of religious activity that is similar to the interpretations or activities of an Indonesian religion but deviates from the tenets of that religion."

Since hardliners disagree with the reformative interpretation of the Ahmadiyya Muslim Community, they are able to use the Blasphemy Law to justify attacks against them. The Blasphemy Law makes it illegal to advocate "deviations from teachings of religion considered fundamental by scholars of the relevant religion." So forget about separation of religion and state. This law gives ultimate control to religious "scholars" in deciding who should be punished for holding variant interpretations of their religion.
Sunday's attack against the Ahmadiyya Muslim Community is not a coincidence; rather, it is a direct result of a focused, organized effort to silence this peaceful community. Thirty years ago, the top Muslim clerical body in Indonesia declared that the Ahmadiyya Muslim Community is not a legitimate Muslim community, resulting in the Ahmadiyya Muslim Community's activities being outlawed in several areas of Indonesia. Astonishingly, the Indonesian government funds this clerical body and appoints its members.
In 2008, Indonesia 's Minister of Religious Affairs, Attorney General and Minister of the Interior issued a joint decree ordering Ahmadi Muslims to discontinue the proclamation of their faith. Since this 2008 decree, extremists have used this decree to justify acts of terrorism against the Ahmadiyya Muslim Community.
The Setara Institute — an NGO that monitors religious freedom — reports that violence against the Ahmadiyya Muslim Community has significantly increased from just three incidents in 2006 to 50 in 2010 — amounting to more than 100 recorded attacks against the community since 2008.
Historically, any form of a blasphemy law — meant to punish those accused of insulting a faith — gets misused to persecute and strike terror into the hearts of minority religious groups. The sheer barbarity of Sunday's attack illustrates how far Indonesia has drifted from being a tolerant nation. It is time for Indonesia to start becoming more intolerant of militants seeking to spread terror.
Indonesia pledged to endorse Article 18 of the Universal Declaration of Human Rights, which guarantees, "freedom of thought, conscience and religion" and "freedom, either alone or in community with others and in public or private, to manifest his religion or belief in teaching, practice, worship and observance." It is time for Indonesia to live up to this pledge.
President Obama has indicated a possibility of strengthening ties with Indonesia . I call on our President to leverage this bond to urge the Indonesian Government to bring those behind Sunday's attack to justice and ensure no future attacks are levied on the Ahmadiyya Muslim Community or the Christian community. Militant groups like Islam Defenders Front (FPI) have already threatened to initiate "sweeping raids" of Ahmadi Muslim properties in other areas of Indonesia in the near future, which indicates a continued threat to the community. It is time for the Indonesian Government to ensure that Ahmadi Muslims, Christians and other religious minorities remain safe.
It is time for the Indonesian Government to revoke the June 9, 2008 Joint Decree against Ahmadi Muslims. It is time for the Indonesian Government to repeal the 1965 Blasphemy Law. It is time to stand for your citizens; not for terrorists. It is time to stop these callous attacks against Christians, Ahmadi Muslims, or anyone else. It is time to live up to your motto of unity in diversity.
Indonesia, it is time. Are you truly that model of religious tolerance our President said you are? Do you respect and protect diversity? The whole world is watching, and it's your move.