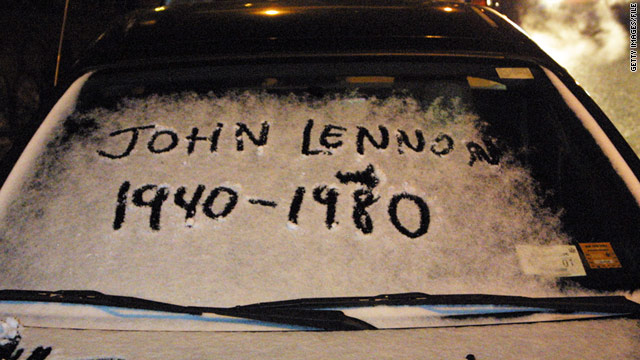 Music legend John Lennon was shot and killed on the night of December 8, 1980.
STORY HIGHLIGHTS
Journalists share their memories of the night John Lennon was killed
Professor was an intern at WCBS-TV in New York and received tip on shooting
Critic says listening to last album heartbreaking because of its celebration of family life
One writer spent the night outside Dakota apartment building talking with other fans
(CNN) — Journalists occupy a unique place in history.
They are observers paid to chronicle history, and many of them did when Mark David Chapman stepped from the shadows and gunned down musical legend John Lennon late on December 8, 1980.
In honor of the 30th anniversary of the ex-Beatle's death, a few journalists shared their recollections of that fateful night and the roles they played in the coverage.
Donna Cornachio is a professor of journalism at Purchase College, State University of New York and a media coach at the Clarity Media Group. In 1980, she was a senior at New York University and an intern working the news desk at WCBS-TV in New York.
I was an intern on the assignment desk, and one of my jobs was answering the phone.
We had just started the 11 o'clock news when I got a call from a tipster who said, to the best of my recollection, that one of the Beatles had been shot. I was a college student, and I didn't even know any of the Beatles lived in New York so I thought it was a crank. We had a lot of kooks who called.
John Lennon's last moments
Lennon's life spiraled out of control
Political legacy of John Lennon
But my assignment editor (Lionel Phillips) asked, "What was that all about?" I said, "Some kook who said one of the Beatles had been shot." He being older and a lot wiser, he started me working the phones. The first thing he had me do was call the 20th Precinct because he knew John Lennon lived in New York and he knew that he lived in the Dakota and the 20th Precinct would cover that area.
I called the precinct, and the cop who answered the phone was clearly rushed and very hurried. He said, "I can neither confirm or deny," and he hung up so we knew we were on to something. Lionel directed a crew to the Dakota as well as Roosevelt Hospital; again with his expertise and knowledge he knew that if Lennon had been shot, the Roosevelt would be where he would be taken.
He just had me keep working the phone, and back then we didn't have the internet so we couldn't Google. We used some good, old-fashioned reporting with reverse phone directories, which listed telephone numbers by address rather than name. I would look under 1 W. 72nd St., which was the address of the Dakota to see if we could find anyone who heard shots or knew what was going on as well as calling people in adjoining buildings.
At the same time, I was monitoring the wire feeds to see if anything was coming over the wire. Just to give some context, at the time local news was the source where people got their news, and we definitely wanted to be first, and we wanted to be right. But at that time we had no confirmation, only a tip.
I spoke with Lionel recently because I was planning on speaking on a panel about this, and he said he believes that a source that he had in Roosevelt Hospital in the emergency room, a nurse maybe, who called the news desk said, "I think they just brought John Lennon in." Eventually we got confirmation from a doctor that it had been John Lennon who had been shot.
I don't remember how long I was in the newsroom, my internship was from 4 p.m. to midnight, but I know I stayed well past midnight that night. I was staying with my sister at her apartment on the Upper West Side, and I remember making my way home very late, early in the morning. I remember my sister opening the door for me, and she was a mess. She was sobbing and crying and I said, "What's the matter?" and she said, "John Lennon's been shot." It really wasn't until I saw my sister, and I saw (how) upset she was that it was the first time it really hit me that this incredibly talented, peace-loving musician had been murdered.
Joe Urschel is the executive director and senior vice president for the Newseum in Washington. In 1980, he was a reporter for the Detroit Free Press.
I was working for the Detroit Free Press, which at the time was a morning paper, and he had been shot late at night. I was … playing my guitar at my home in Detroit. I'm a failed musician, and I was trying to work out the chords on "Hey Jude."
I got a call from the night editor saying that John Lennon had been shot and we were fairly certain that he was going to die. He said, "We're holding space in the late edition of the paper for an appreciation." He asked me if I could write something in 20 minutes and call him back to dictate it.
In those days we didn't have cell phones or the internet so there was no way to get the story to the paper other than to write the story and call it in to the rewrite desk. I knocked out a piece; I think I had about 1,000 words or 800 words, and I called the desk, and I began to dictate it to one of the late-night rewrite guys.
This particular gentleman was of an older generation and had not much knowledge, or appreciation, of the Beatles. I was being very careful, spelling everything out, but also trying to hustle this guy along because I didn't want to miss the deadline to get it in the later edition of the paper.
In the morning I looked at the story and everything was perfect except he had misunderstood me when I was listing a number of Lennon's songs, including "I Am the Walrus," which he took to be called "I Am the Lawless." That really infuriated me and disappointed me because (Lennon) was a man and musician who I really respected and wanted to at least contribute something to this great recollection of him and the record of his death and the whole thing was spoiled by just one word being misheard.
Longtime music critic J.D. Considine is the jazz critic for The Globe and Mail in Toronto, but at the time, he was a music critic for the now-defunct Baltimore News-American newspaper.
It was one of the rare nights that I actually was able to get to bed early. I had just fallen asleep when the phone rang, and it was my editor at the News-American telling me the news and that I needed to come in and write a story.
I remember what was most bizarre was that (editor) Jon Katz, who was telling me to remember that I'm not writing for the hip people, but I was writing for the steelworkers at Sparrows Point who may have heard of John Lennon, but didn't know much about him. That was a bit of a challenge, but I think it said more about (Katz) than the steelworkers.
What hit me most about the news wasn't thinking about John Lennon and the Beatles, but that I had for the past two weeks been listening very heavily to "Double Fantasy" and really appreciating the sense of family life and connectedness that album projected. Thinking about what happened and thinking about what Lennon was saying in songs like "Beautiful Boy" broke my heart in ways that thinking about Lennon and the Beatles couldn't.
Shock was pretty must the most common reaction. Not just his being dead. Michael Jackson dying, for example, was a bit like Buddy Holly or Otis Redding dying in that it was an unexpected, accidental death.
But to be assassinated — there's really not another word for it — was completely out of the blue and said something about the status of being a pop star that no one else, thank goodness, had ever said before. Up until that point, you only ever thought of politicians being assassinated.
Jim Farber is the music critic for the New York Daily News. In 1980, he was a recent college graduate who was writing the record review column for Circus magazine.
That night I was at a now-defunct rock club called Hurrah that was about five blocks south of the Dakota — (the rock club was) in a building which has since been torn down.
I was there to see a band called the Must, which was actually the band belonging to Michael Musto, who is a well-known columnist for The Village Voice. I remember someone told me they had heard that Lennon had been killed, but this person was one of the least reliable people ever and not at all someone you would believe so I didn't think anything of it.
It was an uncommonly warm night, and I was walking the about-a-mile distance to my home when this prostitute stopped me and asked if I had heard that John Lennon had been killed. I thought, "Well, that's a weird come-on," but I just said "No," ignored her and kept walking.
Then about 10 blocks north of that this homeless guy said to me, "Did you hear that John Lennon was shot?" and I still really didn't think anything of it. Then when I got home and turned on the radio and heard people talking about it and crying, I realized it was true.
I immediately left and walked back to the Dakota. There were hundreds of people there, and they shut down parts of 72nd because there were so many people there. It was very emotional, if you could imagine, and I stayed there the whole night wandering around, talking to people and trying to get our heads around what had happened.
It was just so shocking that you wanted to be there with other people who felt the same. Years later, I wrote a piece for the Daily News about it in honor of the anniversary. The interesting thing is that I had written a not very positive review of the "Double Fantasy" album, one of the few out there that wasn't a glowing review. I just didn't think it was a great album.